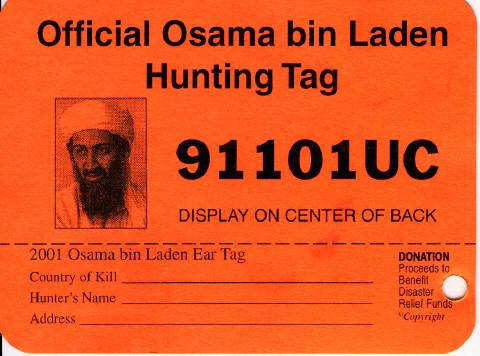 Special Hunting Tag now required.
All hunts guided (For your protection AllGuides carry a M-60 Grenade Launcher)
You may use only shoulder fired rifles for the hunt. (No Full Auto will be allowed)
Laser or Red dot sights OK!
For "Clean Kills" we recommend A Winchester Mdl 70 Heavy Barrel in .308
or a Weatherby Mk5 in .300 Weatherby for long shots
NBC weapons not allowed firearms only.
Ask about the Special Pistol Hunt. (Only Rem XP-100 or Thompson Contenders .30 Cal or greater allowed)
If you bag a Taliban on the Pistol hunt at over 300 yds (Open sight only) . Your Stay is free!
NEW HUNT!!!!! Due to popular demand we are adding a 3 Day Varmint Rifle 500 Yard + Hunt Nov 11 thru 14, $1500 Caliber's Under .30 ie. 22 Hornet 218 Bee, 219 Zipper, 223 Rem, 22/250, 6mm, Suggested
If you have a Hot Wildcat thats ok too!!!!
Due to the limited supply of Taliban presently on the ranch a limit of 1 Talban per day will be enforced.
To get the maximum experience from your hunt we recommend hits other than head or body mass for the first few rounds fired. The guide will call for a cease fire if vultures begin to circle.
Make your reservations early as this is going to be one of our most popular hunts
Seniors & Secret Select Society Of Suave Stylish Smoking Jackets 10% Discount
Email: smokeaTal @ az.com
Warning these Taliban are armed and dangerous!!!!!!!
All we feed them is Jimmy Dean Sausage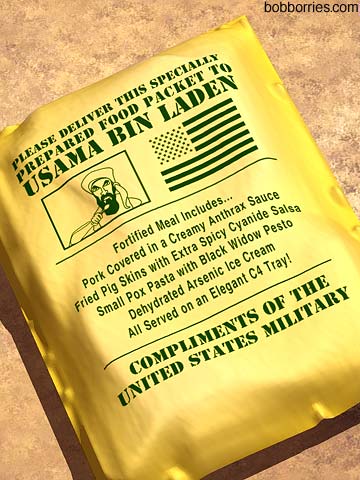 We hope to have these additional food packets soon.
Coming Spring 2002 Special Iraqi Hunt



Email the Webmaster
bfair
View My Guestbook
Sign My Guestbook