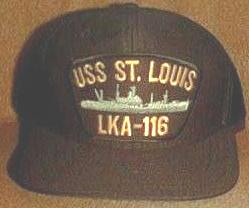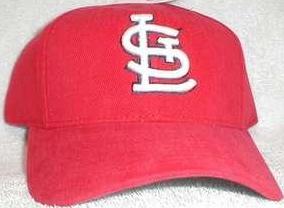 August Busch St. Louis Cardinal Owner
Provided these and were worn at sea by all the crew.
History
From Dictionary of American Naval Fighting Ships, Vol. VI (1976), pp. 248-249
A city on the Mississippi River -- the largest city in the state of Missouri.
(LKA-116: dp. 18,600; l. 575'6"; b. 82'; dr. 25'3"; s. 20 k.; cpl. 336; a. 8 3"; cl. Charleston)
The sixth St. Louis (LKA-116) was laid down on 3 April 1968 by the Newport News Shipbuilding
& Dry Co., Newport News, Va., Launched on 4 January 1969; sponsored by the Honorable
Leonore K. Sullivan M.C., Representative from the 3d District of Missouri and commissioned on 22
November 1969 at the Norfolk Naval Shipyard, Capt. John W. Klinefelter in command.
Following commissioning, St. Louis was outfitted at Norfolk; and, on 3 February 1970, commenced
trials On 6 February, she was ready for sea and sailed for Long Beach, Calif., her home port. While
en route, she conducted underway training for her crew, visited Fort Lauderdale, Fla., transited the
Panama Canal and arrived at Long Beach on 28 February ready for two months of intensive
training in battle organization and amphibious operations.
St. Louis spent May and June in post-shakedown availability and the greater part of July in
provisioning preparatory to her first deployment with the fleet. Late in July, she conducted her first
dependents' cruise to familiarize the families of her crew members with her operations and
capabilities. She got underway on 1 August with units of Amphibious Squadron 11 for Pearl Harbor.
St. Louis, with the squadron, reached Pearl Harbor on 6 August, refueled, and sailed on the 8th for
Vietnam. On 16 August, she was detached to proceed to Subic Bay and finally rejoined her
squadron at Danang on 21 August. After offloading Marines and their equipment, she then
proceeded to Buckner Bay, Okinawa, returned to Long Beach to transport a World War II midget
Japanese submarine to the submarme base at Pearl Harbor; and anchored again in Danang Harbor
on 11 October. After completion of a large redeployment operation involving over 2,000 Marines
and 22,000 tons of equipment in the Quang Nam province, St. Louis visited Hong Kong and then
moved to Subic Bay in the Philippines to participate in large scale amphibious landing exercises
during November and December.
St. Louis completed the amphibious exercise in early January, spent 15 days in upkeep in Subic
Bay, then headed north again for two months of shuttling men and cargo between Vietnam,
Okinawa, and Japan. She departed from Yokosuka on 20 March 1971 and entered Long Beach on
the 31st. After a month and a half stand down period in Long Beach and three more weeks of local
operations and upkeep there, she returned to Vietnam, arriving in Danang on 24 June. She visited
Hong Kong, 28 June to 3 July, then returned to Long Beach on 19 July. St. Louis remained on the
west coast for the remainder of 1971 and for the first three months of 1972. During this period, she
was engaged in refresher training, amphibious exercises, and upkeep.
On 31 March 1972, St. Louis headed out of San Francisco Bay back to Vietnam. After seven
months of transporting men and cargo between various bases in the western Pacific, she returned to
Long Beach on Veterans' Day 1972. She spent the rest of 1972 and all of 1973 on the west coast.
She visited Acapulco, Mexico, in February, participated in DSRV operations in May, visited Portland, Oregon in June for the annual Rose Festival.
She finished out 1973 with availability periods, refresher training, and amphibious exercises.
In mid-January 1974, St. Louis stood out of Long Beach for return to the Western Pacific. During this cruise, she visited ports in Hong Kong, Okinawa, and Japan. She returned to the States and began a period of Availability for repairs.
She then began refresher training and amphibious exercises in preparation for her next WestPac deployment. St. Louis departed Long Beach in the fall of 1975, bound for the Far East. She began the New Year 1976 in Hong Kong, enroute to the Philippines.
She visited ports in China, then participated in joint exercises with Korea in April. After a brief stop in Okinawa, St. Louis began her trip home, arriving in San Diego on 25 May 1976.
She finished the year in local operations, midshipman training, and amphibious exercises.
St. Louis began the New Year 1977 tied up to Pier 7 at San Diego Naval Station, involved with pre-deployment inspections. On 29 March, she commenced her WestPac deployment with other units of Amphibious Squadron Seven.
During the group sail to Pearl Harbor, the ship participated in convoy exercises. Spending one day in Eniwetok, she was underway again enroute to Okinawa. St. Louis spent the next several weeks participating in several amphibious exercises, including RAIDEX in August. Following a stop in Numazu, Japan in September, she entered the Ship's Repair facility in Yokosuka, Japan for much needed repairs and upkeep.
She then headed for Okinawa for final preparations for one of the largest amphibious operation exercises conducted in WestPac in recent years. The Marine Amphibious Force Landing Exercise (MAFLEX) was named Bayanihan IV/Fortress Lightning and began on 9 October with the opposed transit to Mindoro. Her exercises completed, the St. Louis began her long transit home.
She arrived in San Diego on 17 November.
St. Louis spent 1978 completing her regular overhaul. She then held refresher training and exercises in preparation for her next deployment.
She got underway for WestPac on 1 March 1979, stopping at Eniwetok and Pearl Harbor along the way. She pulled into Pusan, Korea on 14 April, then began voyage repairs. The next two months found the St. Louis operating in Japanese waters with two upkeep periods in Yokosuka.
Underway 23 July for Buckner Bay, she experienced high winds and heavy seas as Typhoon Hope was beginning to make her presence felt. She finally entered Hong Kong, her last liberty port of the deployment.
She left Hong Kong and departed for Subic Bay to begin the largest amphibious exercise held in Japanese waters since World War II. Fortress Gale, the Marine Amphibious Landing Exercise, filled the St. Louis's days and nights for the next few weeks.
Mission completed, she began her trip back to the States, arriving in San Diego on 21 September.
St. Louis spent the first months of 1980 in preparation for her next deployment. With final good-byes exchanged and one long blast on the ship's whistle, St. Louis set sail for the Western Pacific on 14 October 1980.
On 5 November, she inchopped to Seventh Fleet and joined the USS Barbour County (LST-1195) and USS Tarawa (LHA-1) as a member of Amphibious Ready Group Alpha. On 24 November, the sip docked in Subic Bay for an extensive Pre-Indian Ocean upkeep period while the units of Amphibious Ready Group Bravo set sail for Okinawa.
After sea trials, St. Louis turned south on 15 December for her transit through the South China Sea to the Gulf of Thailand, destination Phattaya Beach. St. Louis spent New Year's Day 1981 in Singapore and then departed for the Indian Ocean.
She arrived in Mombasa, Kenya on 12 January for a 4-day liberty before sailing on to Diego Garcia for repairs. From Diego Garcia, she sailed to Perth, Australia and exercises there. The remainder of February was highlighted by the second Equatorial crossing, while enroute to Subic Bay
From Subic Bay, she traveled to Pusan, Korea for Exercise Team Spirit/Valiant Flex 81-2. PHIBRON was officially relieved as the deployment amphibious ready group in the Western Pacific and St. Louis began her long trip home. She arrived in San Diego on 16 April 1981.
St. Louis began her regularly scheduled overhaul in November 1981. Her crew moved back aboard on 1 April 1982. They began to renew the camaraderie of shipboard living in newly refurbished berthing areas.
She spent the next several weeks in trials and inspections. In October, she headed north with Amphibious Squadron Three and several escort ships to participate in San Francisco's "Fleet Week 82".
Following more sea trials and exercises, St. Louis received official word that she would be permanently homeported in Sasebo, Japan in October 1983. She reached Japan, changed her operational control to Commander, U.S. SEVENTH Fleet, and became a unit of Commander, U.S. Naval Surface Group Western Pacific and an operational unit of CTF-76.
St. Louis then commenced an extensive half million dollar availability entailing over 330 jobs, one-third of which were main propulsion related. She finished her overhaul on 2 December, in time to participate in amphibious exercise Valiant Usher-84 off the coast of South Korea. She then returned to Sasebo, Japan for the holidays.
During January 1984, St. Louis made transits to Subic Bay, Philippines, Naha, Okinawa, and Pohang, Korea.
She then participated in amphibious exercise Team Spirit '84 in the Sea of Japan on the eastern coast of Korea. This was the largest amphibious exercise held in the Pacific area in 1984. The exercise involved numerous units of both the Republic of Korea Navy and U.S. Naval forces, including the USS Kitty Hawk Battle Group.
She returned to Sasebo for upkeep, then departed to participate in Exercise Balikatan '84 as Commander Amphibious Task Force. This exercise involved combined U.S./Philippine military personnel. St. Louis participated in Exercise Bearhunt '84 in September by transporting Marines and cargo between Naha, Okinawa and Inchon, Korea. She got underway on 1 October for operations in Kushiro, Japan.
She returned to Sasebo on 14 October for repairs, then proceeded south to the eastern coast of Okinawa for exercises involving units from the Republic of Korea and the U.S. She returned to Sasebo on 17 November to begin a Restricted Availability.
In late January 1985, St. Louis participated in Exercise Beach Guard 85, rescuing simulated evacuees from San Miguel, Republic of the Philippines. She visited Hong Kong in February then returned to Sasebo.
March 1985 was dedicated to amphibious operations in Exercise Team Spirit 85 off the coast of Pohang, Korea. After completing this exercise, she began an upkeep period in April, which included a cleaning of the ship's hull and prepared the ship's material readiness for yet another amphibious exercise, Balikatan 85, off the coast of Dingling Bay, Philippines. After a liberty call in Thailand, she returned to Sasebo to begin a two-month Ship Repair Availability from 1 July to 30 August.
She was back on line and went into full swing on Operation Bear Hunt on 1 October. She made two heavy Marine lifts in Naha, offloading the vehicles, pallets, and personnel in Pusan, Korea.
On her second trip to Pusan, she met USS Dubuque (LPD-8) for the two ship's first group sail since July 1985. St. Louis then steamed independently to Cebu Island via the San Bernardino Straits for a liberty visit in November. She finished the year in a Ship Repair Availability.
Visits to Phattaya, Thailand and a dependents cruise to Nagasaki, Japan highlighted the year 1987. This was the first time in nineteen months that a U.S. Navy warship had visited this city. She participated in Balikatan and Landex in February. For Exercise Team Spirit 87, St. Louis played several roles.
She onloaded for the role in Pohang, Korea, then participated in an opposed transit. During this transit, St. Louis took advantage of every opportunity to drill the crew. She finished her part in the exercise by offloading in Okinawa. St. Louis inchopped to COMIDEASTFOR and conducted Persian Gulf operations from 25 August to 5 September.
The Special Warfare boats and Seafoxes were offloaded in Bahrain, after St. Louis was caught in the flight path of Iraqi planes conducting offensive attacks on Iranian targets. Providing defensive fire for operation Earnest Will, St. Louis fired the largest caliber guns thus far in the Persian Gulf war.
After out-chopping from COMIDEASTFOR, St. Louis steamed to Phuket, Thailand to make a port visit. She then sailed for Subic Bay in order to complete a gunnery exercise planned before the Persian Excursion. She finally returned to Sasebo on 6 October, after steaming 14,000 miles. She made a final trip to Inchon, Korea in December, then returned to homeport.
St. Louis spent most of 1988 in local operations and exercises of Korea. She completed two Restricted Availabilities, completing the last one in October. She then participated in exercises Valiant Blitz 88-1 and Landex 88-9, Bear Hunt 88, and Valiant Mark 89-2. St. Louis arrived inport Sasebo on 21 December for leave and upkeep.
St. Louis participated in exercises Team Spirit 89 off White Okinawa in 1989. She spent the remainder of the year in local operations and exercises. St. Louis spent 1990 involved in exercises off Pohang and Okinawa.
She returned to Sasebo for upkeep and leave. St. Louis participated in fleet exercises off Japan and Thailand in 1991 and 1992. St. Louis decommissioned on 2 November 1992. She was transferred to MARAD for assignment to the Reserve Fleet.

St. Louis earned two battle stars for service in the Vietnam War.

AMPHIBIOUS CARGO SHIPS
SERVICE: Navy
DESCRIPTION: Cargo ships designed specifically to support amphibious landings.
FEATURES:
The amphibious cargo ships are the first class of ship designed specifically to carry
troops, heavy equipment and supplies in support of amphibious assaults.
BACKGROUND:
Four of the five ships in the class had been transferred to the reserve fleet in the late
1970s and early 1980s. The need for additional sealift capacity resulted in all four
being returned to the active fleet in 1982-1982. They are among the first Navy ships to
have a fully automated main propulsion plant. The lead ship of the class, USS
Charleston (LKA-113) was decommissioned in 1992, and will be joined by USS Saint
Louis (LKA-116) in FY-93. Both ships will be mothballed for possible activation in the
future. The remaining ships will remain active through the end of their service life.
St. Louis is now in the Ready Reserve Inactive Fleet Pearl Harbor, HI